$32.99 $49.99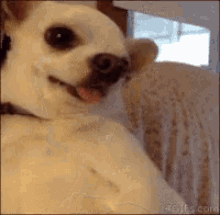 The Cutest & Comfortable Way
Keep Your Dog from Barking, Biting and Grooming
Protect your dog and the people around him the cutest way possible with the Duck Silicone Dog Muzzle. This adorable muzzle will not only keep your dog from biting people or eating leftover street food on your daily walks, but it will also turn him into a charming duck!
Features and benefits:
Keep your dog safe. Allowing your dog to wear one ensures he's safe from eating leftover food found on streets or licking his wounds, thus preventing him from catching diseases.
And people around him too.  Designed to sit perfectly on your doggo's snout, it will transform him from an aggressive canine into the cutest little thing ever! It will assure people around him that they're safe from his bark or bite. The perfect entertainment that will put a smile on everyone's face. 
More humane than a traditional muzzle. Shaped like a duck's bill, it looks much nicer than a traditional muzzle that has a Hannibal-Lecter/Darth-Vader-face-mask sort of prison feel to it.  This will actually give your furry friend more freedom to sniff around since it's so open at the end.
Won't hurt your dog. Made of 100% pure grade silicone, this muzzle is soft, safe, and non-toxic. It won't cause blisters or allergies. And the nylon buckle is adjustable with an easy-release mechanism so your precious pet remains comfortable while wearing it.
Available in several colors and sizes. The Duck Silicone Dog Muzzle comes in 3 sizes (small, large, and medium) and 4 colors (blue, yellow, pink, and coffee) so you can easily choose one that'll perfectly fit your favorite furball and his personality. Makes a great gift for fellow pet owners too.
(Warm reminder: please measure your dog's snout and head circumference before purchasing to ensure you'll get the right size that's perfect for him.)
NOTE: Please give 10 – 20 working days for shipping

ADD TO CART Now!
What Are You Waiting For?
Offer Ends When Stock Runs Out!
This item is going to be here for a
Limited Time Only!
We will ensure 100% Satisfaction
with Every Order You Made
Product Specifications:
Package includes: (1) Duck Silicone Dog Muzzle
Material: Silicone + Nylon
Size: (Snout and head circumference)
Small ~ 12 x 27 cm/ 4.7 x 10.6 inches
Medium ~ 15 x 33 cm/ 6 x 13 inches
Large ~ 16 x 35 cm/ 6.3 x 14 inches
Color: Blue, Yellow, Pink, Coffee